What do the human brain, biological networks, developing organisms, the immune system, flocking birds, AI systems and quantum devices have in common?

All these systems, while vastly different in their appearances, spatial and temporal scales and functions, unfold their dynamics in high-dimensional state spaces. At the same time, external stimuli can condense these complex spaces onto a dramatically smaller subset of states that represent targeted responses to these inputs. Most intriguingly, this subspace may emerge from low-order, often linear interactions and superpositions, which appear to balance the potential of generating arbitrary solutions against processes that filter out apt solutions from all physically possible ones. Ultimately, this enables the emergence of new and meaningful system states seemingly out of nothing.

Is this the basis of knowledge, cognition, and information processing in general? And if so, can we identify common principles and relevant differences by comparing such systems across different realms and disciplines? This conference will bring together experts from neuroscience, physics, molecular and developmental biology, simulation and machine learning, and quantum computing and sensing. It will explore fundamental commonalities across systems from these distinct fields, at the same time highlighting their peculiarities, and how material and temporal constraints may have shaped them.
The aims of our Giersch – School & International Conference are:
We aim to foster exchange between scientists from differnt research areas by creating a platform for networking.
We aim to present cutting edge science in the afore mentioned research fields.
We aim to give early career scientists the tools they need to be successful conference participants.
Program
A preliminary schedule will appear shortly.
School (November 6th and 7th)
During the first two days internationally recognized scientists will give special introductory lectures for the school's participants. In this way, they will receive essential basics to be able to participate in the following conference successfully. The participants will be able to exchange ideas and make contact with each other and the lecturers.
Conference (November 8th to 10th)
Over the course of 3 days, we will offer a diverse program of invited speakers, keynote talks, roundtable discussions, and poster presentations. During the breaks and in the evenings there will be ample opportunity to network and get to know Frankfurt.
FIAS Senior Fellow Laureate Lecture
Thanks to a generous donation from the Giersch Foundation, FIAS can present the "FIAS Senior Fellow Laureatus" award for the 5th time. In 2023, the prize goes to Prof. Dr. Thomas Südhof. The biochemist heads the Südhof Laboratory at Stanford University Medical School. In 2013, together with James Rothman and Randy Schekman, he received the Nobel Prize in Physiology or Medicine for their discoveries around the control system for the transport and delivery of cellular cargo. Within the framework of the "Giersch School & International Conference", the public award ceremony for Professor Südhof will take place on November 8th, 2023. Prof. Südhof will give a talk about his current research.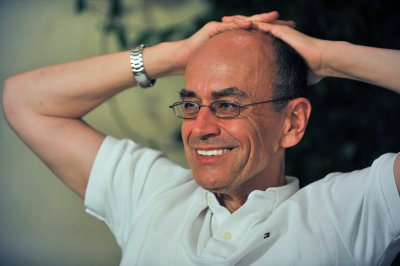 Participation
Summer School
Ph.D. students in natural and computer sciences can apply to participate in the school and the conference. Their participation will be supported with a travel grant of 300€.
Requirements:
Ph.D. student
short CV
title and abstract of your poster
letter of recommendation by your supervisor
Registration
Registration for the event will begin in August. If you want to be informed, please join our mailing list. (You will only receive an email once the registration is open.)
Inform me!
Further Information
Contact
If you have any questions regarding the event, please contact our team:
Email