The FIAS building is located on the Science Campus Riedberg of Goethe University, Frankfurt. This is a rapidly developing area, part of the new city quarter Frankfurt Riedberg. FIAS and its sister building, the Giersch Science Center, are easily recognisable by their red colour.
Arriving at Frankfurt Airport
Long distance travelers may get to FIAS by plane via Frankfurt Airport, one of the biggest air traffic hubs in Europe and servicing many international airlines. For planning and booking of flights, please refer to your local or online travel agency. For departure/arrival information, please refer to the website of Frankfurt Airport.
From Frankfurt Airport by public transport
To get to FIAS from Frankfurt Airport regional train station (Regionalbahnhof), take S-Bahn S8 or S9 to station Hauptwache (inner city), then change to U-Bahn U8 and exit at Uni Campus Riedberg after a total ride of about 40 minutes. Alternatively, from station Hauptwache, you may take U-Bahn U3 and exit at station Niederursel, then either take a 10 minutes walk uphill, or change to U-Bahn U8 or U9 and exit at station Uni Campus Riedberg.
During daytime the trains of U8, U3, and U9 run four times per hour each, details can be found here.
Information: Rhein-Main-Verkehrsverbund (RMV), the regional transport provider.
From Frankfurt Airport by car
Leaving the Airport follow the signs towards the Autobahn A5 (direction Hannover), stay on it (15 minutes) until you reach the "Bad Homburger Kreuz". There you take the exit onto the A661 towards "Offenbach" and leave it at the second exit called "Heddernheim/Kalbach Riedberg". Now at the second traffic light you turn right onto the Altenhöferallee and in the first roundabout take the 3rd exit onto the "Max-von-Laue Straße". You've reached the Campus. The FIAS is located a bit further down the road on the right side. You cannot miss the two red buildings.
Arrival by public transport:
From Frankfurt main station or city center you reach FIAS by underground lines U8 and U9. The station "Uni Campus Riedberg" is located directly at the campus.
Travelling by car:
North and West:

FIAS is only a few minutes' drive south of the Bad Homburger Kreuz interchange. Travellers arriving via the motorways should take the A661 towards Offenbach and immediately take the next but one exit "Heddernheim/Riedberg" onto Marie-Curie-Straße. From there, follow the signs to "Universität".

South and east:
Take the A661 towards Bad Homburg and exit at "Heddernheim/Riedberg" onto Marie-Curie-Straße. From there, follow the signs to "Universität".
From Frankfurt city centre/main station:
Coming from Frankfurt city centre, take Rosa-Luxemburg-Straße, leave at the exit "Riedberg/Mertonviertel" and turn onto Marie-Curie-Straße. From there, follow the signs to "Universität".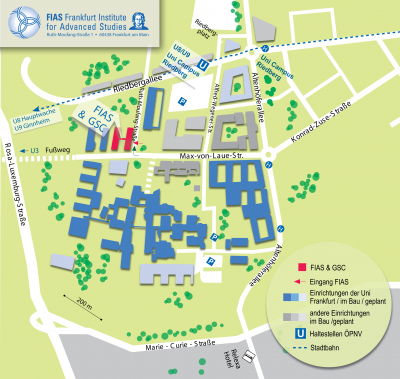 Our Address
​Frankfurt Institute for Advanced Studies
Ruth-Moufang-Straße 1
60438 Frankfurt am Main​
Germany
Administration
For general questions about FIAS, please contact Anja Sälzer.

Phone: +49 69 798 47600
Email: info_at_fias.uni-frankfurt.de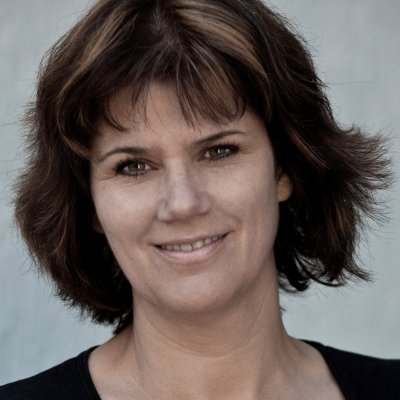 Public Relations
For questions regarding press and public relations, please contact our press officer, Anja Störiko.
phone: +49 69 798 47507
Email: stoeriko_at_fias.uni-frankfurt.de