NUFRA2013 – Fourth International Conference on Nuclear Fragmentation
From Basic Research to Applications
29 September - 6 October, 2013, Kemer (Antalya), Turkey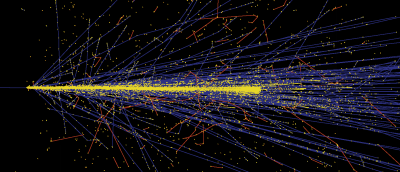 This conference continues a series of international conferences devoted to new developments in the physics of fragment production at intermediate and high energies and in related fields. They have been organized biannually at the same location since the year 2007. Information on the previous conferences can be found here: NUFRA2007, NUFRA2009, NUFRA2011.

Topics
Fragmentation and multifragmentation reactions in laboratory experiments and astrophysical sites.
Production mechanisms of nuclear fragments, hypernuclei, and antinuclei.
Progress in theoretical description of baryon interactions, nuclei, and hypernuclei.
Equation of state (EOS) of isospin-asymmetric and hyperonic nuclear matter.
Phase transitions in nuclear collisions at intermediate and high energies.
Nuclear composition and EOS of supernova matter and neutron stars.
Evaluation of fragmentation reactions in cancer therapy, transmutation of nuclear waste, and spallation sources.
The conference is jointly organized by
Frankfurt Institut for Advanced Studies (FIAS), Goethe University, Frankfurt, Germany
GSI Helmholtzzentrum für Schwerionenforschung GmbH, Darmstadt, Germany
Institut für Kernphysik, Johannes Gutenberg-Universität, Mainz, Germany
Selçuk University, Konya, Turkey
Organizing Committee
A.S. Botvina, co-chair, INR, Moscow, Russia
I. Boztosun, Akdeniz University, Antalya, Turkey
N. Büyükçizmeci, Selçuk University, Konya, Turkey
M. Dogru, Bitlis Eren University, Bitlis, Turkey
M. Cem Güçlü, Istanbul Technical University, Istanbul, Turkey
I.N. Mishustin, chair, FIAS, Frankfurt, Germany
S.N. Nakamura, Tohoku University, Japan
R. Ogul, local organizer, Selçuk University, Konya, Turkey
J. Pochodzalla, co-chair, Gutenberg University, Mainz, Germany
J. Reinhardt, Goethe University, Frankfurt, Germany
W. Trautmann, co-chair, GSI, Darmstadt, Germany
O. Yilmaz, Middle East Technical University, Ankara, Turkey
Motivation
As previously, the aim of this conference is to bring together active scientists, conducting basic research of fragmentation processes in nuclear physics and astrophysics, with those working with its applications (e.g, in medicine, space research, transmutation).
This time we would like to pay special attention to the hypernuclear studies, their importance for astrophysics, and their connection to conventional nuclear physics. For this reason the conference will be accompanied by a joint meeting of the SPHERE network sponsored by the HadronPhysics3 FP7 European Science Program and JSPS Core-to-Core program managed by the Tohoku University (Japan).

Support
We hope to attract some limited funds for local support of some participants who otherwise might be unable to attend the conference. Especially, we encourage students and young researchers to attend this conference. Please let us know as soon as possible about your needs.
Note: Turkish participants, not more than 35 years old, who will have a presentation (talk/poster) may be supported by TUBITAK. Applications for these participants will be carried out by local organizer.
Information for speakers
It is planned to establish a depository of talks on the conference website. All speakers are asked to provide us with a suitable electronic version of their talk at the time of the conference. PDF files are preferred, but other formats can also be accepted.
Resources
Sponsors
The conference is sponsored by the following organizations:
FIAS (Frankfurt Institute for Advanced Studies)
TUBITAK (The Scientific and Technological Research Council of Turkey)
GSI (GSI Helmholtzzentrum für Schwerionenforschung GmbH)
HIC for FAIR (Helmholtz International Center for FAIR)
HIM (Helmholtz-Institut Mainz)
JGU (Johannes Gutenberg University Mainz)
SPHERE (HadronPhysics 3, European Union)
TAEK (Turkish Atomic Energy Foundation)
SU (Selçuk University)
JSPS (Japan Society for the Promotion of Science)