6th International FAIR School
The sixth edition of the International FAIR School will take place in Castiglione della Pescaia, Italy from September 07-14, 2019. The conference venue is the Riva del Sole.

Scientific Program
The scientific program of the International FAIR School covers all aspects of the FAIR project. The accelerators, the experiments, the theories and the computing frameworks behind.

Devoting a day each on the four scientific pillars of FAIR (APPA, CBM, NUSTAR and PANDA) and two additional days for the accelerator itself and the High Performance Computing facilities gives the participants plenty of time to learn about the FAIR project. Furthermore the school is a great example of the multidisciplinary spirit of FAIR.
In a series of expert lectures and group projects the different scientific parts will be elaborated. There will be plenty of time to get to know other international students working on FAIR related projects.
The lectures are aimed at early PhD students / advanced master students working on FAIR related subjects.
Program
The program consists of lectures in the morning and exercise sessions in the afternoon.
It covers the whole physics program of FAIR, i.e. participants will have an overview on what's happening at FAIR. All scientific pillars and collaborations, as well as the accelerator complex will be highlighted. An introduction into deep learning and its application to physics will be given.
All lectures and material can be found online here:
The password has been given at the event.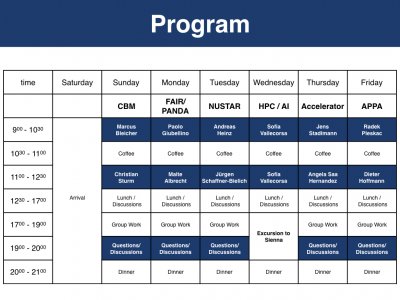 Lecturers
The lecturers of the FAIR School will be announced over time. The idea in general is to have a lecturer on experimental as well as theoretical aspects respectively.
Radek Plaskac, GSI (Germany)
Dieter H.H. Hoffmann, TU Darmstadt (Germany)
Christian Sturm, GSI (Germany)
Marcus Bleicher, University of Frankfurt, FIAS (Germany)
Andreas Heinz, Chalmers University (Sweden)
Jürgen Schaffner-Bielich, University of Frankfurt (Germany)
Malte Albrecht, University of Bochum (Germany)
Jens Stadlmann, GSI (Germany)
Angela Saa Hernandez, CERN (Switzerland)
Sofia Vallecorsa, CERN (Switzerland)
Application
Application to the 6th International FAIR School can only be done by indico, for a link please see below. Please fill out the registration form with the necessary data, upload a CV and a letter of recommendation by your supervisor until May 26. Selection of participants will be made shortly thereafter.
Travel
Travel is organised individually by the selected participants.
Costs

All local accommodation costs are covered. The hotel is already booked, so please do not contact the hotel yourself. Travel is organised individually and has to be paid and arranged for by the participants themselves. Travel support of up to 350€ is available upon request and will be reimbursed after the school.
Application
The application to the FAIR School is done online via the FIAS indico system.
Organisation
Directors of the FAIR School
Dr. Sascha Vogel
Prof. Dr. Hans Gutbrod
For all organisation issues, please contact
Dr. Sascha Vogel
Ruth-Moufang-Str.1
60438 Frankfurt