General
In 2017, FIAS did some major changes to its Corporate Design during this process we implemented the color scheme of the Goethe University. The FIAS logo on the other hand has only seen slight changes. On this side you get al relevant information about the correct usage of colors and fonts within at FIAS.

Logo
Logo Usage
Please use only the logo versions provided on this side. They are always up to date and tend to all needs. On official documents the logo has to be used in its original blue version. To enable the usage on darker backgrounds we offer a white version as well. Attention the white logo is not a simple inverse of the blue original.
Important Notice: Under no circumstances you are allowed to change the logo. This contains the showing of Goethes head, he is an integral part of the logo and cannot be cut of. Even when you use the FIAs logo on one page wit the one from Goethe University it has to stay on!
Questions?
Please contact Patricia Vogel with all questions about the proper use of the logo.
Download the Logo in all common formats here:
Other Templates
You get current templates such as Power-Point, Keynote or poster templates from Patricia Vogel.
Business Cards
She will prepare personalised business cards as well.
Color-Palette
The Color-Palette of Goethe University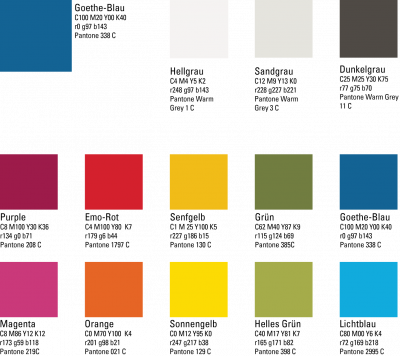 Further information about the universities color schemes:
Farben der GU
Die Grundfarbe des FIAS ist das Goethe Blau, es findet sich als Logofarbe, aber auch in Präsentationen und Druckprodukten wider.
Die Bereiche des FIAS erhalten dem neuen Farbschema angepasste Farben. In Druckprodukten, Präsentationen und auf der Homepage dienen diese Farben zur Hervorhebung der Schwerpunkte und zu leichteren Orientierung.

Schriften
Die Hauptschrift des FIAS ist weiterhin Univers Condensed. Sollte diese nicht zur Verfügung stehen, können Arial oder Helvetica als Ersatzschriften verwendet werden. Als Serifenschrift (z.B. für Urkunden) empfehlen wir Times New Roman oder Georgia.